'Twas the month before release date, when all through the pad
No one used Isard, because she is bad;
Yeah, we're going there. Enjoy the ride, kids!
Antilles was hung by the chimney with care,
In hopes that wave seven soon would be there
Be very careful, you don't want to choke on your aspirations
The Rebels were nestled all snug in their beds
While previews of MC75s danced in their heads
What's in the box, FFG? WHAT'S IN THE BOX?
And Tua in her kerchief, Hondo in cap,
Had just settled down for a long winter's nap,
Her bed is on the Lambda!
When on FFG's site there arose such a clatter,
I sprang from my bed to see what was the matter.
Away to the window I flew like a flash,
Tore open the shutters and threw up the sash.
The moon on the breast of the new-fallen snow,
Gave a lustre of midday to objects below,
Moon, sun, whatever. We're about a third through, go get a drink or whatever
When what to my wondering eyes did appear,
But a miniature sleigh and eight tiny porg-deer,
Shut up, I love them and they are my best friends
With a little old pilot so lively and fast,
I knew in a moment Luke had gone past
He has presents for your ship! They could be ANY damage cards, you'll love them!
More rapid than eagles his porg-deers they came,
And he whistled, and shouted, and called them by name:
"Now, Kuat, now Cymoon, now Bail and Pryce too!
On IF! On Thrawn card! On Raddus and a select other few!
Whatever those other few are....
To the top of the porch, to the top of the wall!
Kids, ask your parents to explain this joke when you get older
Now on the boat! On the boat! On the boat all!
As leaves that before the wild hurricane fly,
When they meet with an obstacle, mount to the sky;
So up to the housetop the porg-deer they flew
Moar porgs = Morgs
With the sleigh full of Seven, and Luke Skywalker too,
And then, in a twinkling, I heard on the roof
The prancing and pawing of each little hoof.
I assume the wave 7 delay is because they needed new horses, multiple times. So many dead horses...
As I drew in my head, and was turning around,
Down the chimney Luke Skywalker came with a bound.
He was dressed all in robes, made of cotton or silk,
And his beard was all tarnished with ashes and milk;
Blue is cool, but have you tried green?
A bundle of ships he had flung on his back,
And he looked kinda homeless just op'ning his pack.
His eyes - how they twinkled, his beard hair, how grey!
His cheeks were like roses, the ships here today (
oh, I wish....
)
His droll little mouth was drawn up like a bow,
And the beard on his chin was as white as the snow;
The stump of a pipe he held tight in his teeth,
And the smoke, it encircled his head like a wreath;
He had a broad face and a little round belly
That shook when he laughed, like a bowl full of jelly.
I have no words for this joke, just the audio.
He was chubby and plump, a right jolly old elf,
And I laughed when I saw him, in spite of myself;
Why does Batman kill everyone? Seriously, he murders so many people....
A wink of his eye and a twist of his head
Soon gave me to know I had nothing to dread;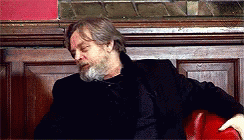 Certainly not with THAT face
He spoke not a word, but went straight to his work,
And filled all the stockings then turned with a jerk,
Dis flipping guy rightere...
And laying his finger aside of his nose,
And giving a nod, up the chimney he rose;
He sprang to his sleigh, to his porgs gave a yell,
And away they all flew like the Falcon, bat outta hell.
They really hate that ship
But I heard him exclaim, ere he drove out of sight—
"Wave Seven is coming, just a few dozen more nights!"
Seriously I love these little buggers
Merry Christmas and Happy Holidays from both of us here. If you haven't seen it yet, go see Last Jedi, we both loved it.